Altered Tunings
This month we will take a introductory look at altered tunings and ways to change your signature sound. Once you know how to play, developing a unique sound can help differentiate your playing from everyone else's.
It's not too late to ask for present you really want this year. Why not a digital effects box or a new 4 track recorder? These kinds of tools can change the way to work with the guitar as well as giving your creative outbursts a little support.
Every once in a while I will run across a song that doesn't behave according to the rules of a standard tuned guitar. If you play a lead line against it, you can identify the key easily enough. But when you try to figure out the chords and the progression, you might have trouble matching up the tones of the progressions correctly.
When that happens, it is often because an alternate tuning is being used. A guitar has a standard tuning of the strings that proceeds E A D G B E (fattest to thinnest strings). Once the guitar is tuned to these notes, in the correct octaves, the guitar is set up to produce the standard chord and scale patterns. This is the way most people learn the guitar. All the chords you see around are derived from, and used in, the standard tuning.
The guitar was initially tuned this way to set up the relationships between chord forms and scale forms as they flow across the fretboard. If you examine alternate tunings for how they change the patterns and shapes that occur, you can see the standard tuning produces favorable pathways for triads, barre chords and scales. From what I have seen, it is one of the most efficient tuning designs.
However, if you alter the open string tuning, you can change the fundamentals of the set up and introduce new combinations of tones that can produce striking results (excuse the pun).
Before we get into the different tunings, Let's talk about how these alternates may have been discovered and used. This is pure speculation, since they were developed by thousands of guitarists over the course of several decades (or even centuries). I am willing to speculate because I remember how I first discovered them. I tuned the guitar incorrectly! Then I did it on purpose.
My first dabbling with alternate tunings happened when I tuned the high E to a D note (by mistake) and started playing with the drone sound of the added D note. When I played the scale of D, it sounded different when I hit the high E string. It did not sound bad, just different. It actually caused me to play the D note twice at first. When I realized this, I quickly started to adjust the scale to accommodate this new tuning.
It is important to remember the lute was tuned the same as a guitar with the exception of the B string, which was tuned to a Bb. So long ago, they used the idea of tunings to perfect the instrument.
When you practice using the standard tuning for hours at a time, things start to sound the same. You explore the limits of your abilities and the sounds you can create, and due to human nature, you try to expand your borders. Playing in a new tuning can add a spark to your otherwise predictable sound. It is an instant way to change your sound and add some elements that were not there before. Many times this results in a richer, thicker sound.
So I believe alternate tunings are a way of increasing what you can do and add an additional component to your style. I think they were created through experimentation. Once a person discovered alternate tunings, they had much to experiment with. It opens new worlds of possibilities.
Once you drop the tuning of the high E string to D, it is only a matter of time before you try it with the low E string too! Then you start looking for opportunities with the other strings. Before you know it, you are in a different world.
Eventually you will run into someone who works out of a G tuning, and that will present even more opportunities to change.
The Dropped E String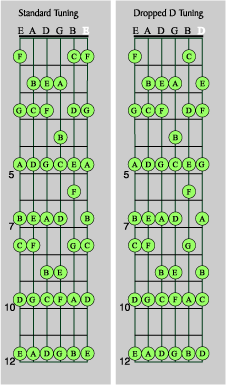 In the example above the high E string was dropped to a D note, while all the other notes are kept the same.
Notice I said dropped. The note is now one whole step lower. Take a look at what happens to the signature to notes when you drop the E to a D note. All the scale notes on the entire string are located two frets up towards the sound hole or pick ups. So the usual chord and scale forms no longer produce the same sound. Barre chords no longer work if you include the string that has been changed.
This new tuning changes the relationships between the strings. The notes moved and this must be accounted for, if you are going to use your knowledge and construct something in this altered environment.
If you stick to the open string positions you may have a richer environment from which to create. Often times the combination of open strings is driving the tuning and creating a fuller sound.
Comparing Forms In The Signatures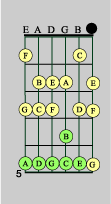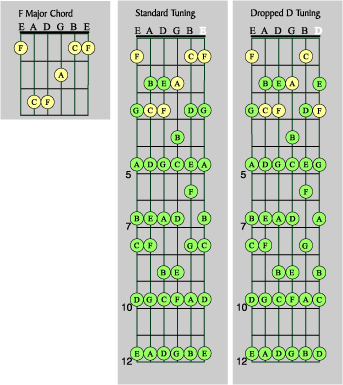 In this next example we are going to change the F major form in the C scale, in order to see what happens to barre chords when using this tuning. Also we will examine the open position C scale to see the altered pathway that occurs using the open string scale.
Notice that in order to play the scale correctly you have to now omit the open high D note or omit the D note on the B string. You also have to climb higher to play the G note. However the biggest problem is you may have to think about this as you go, if you are improvising.
This can be a problem for the creative process, since you have to reserve some thinking time for making sure you move to the proper notes, instead of just concentrating on improvising.
If you are only concerned with one or two tunings, you can just memorize a hand full of chords and scale patterns and start there. You could then start a full examination of the new layout or just make do with using a few chords. If you go up the fretboard farther, the changes usually have a bigger effect on the patterns while the richer sound may not be as noticeable.
Once you start to complicate the process by changing other strings, the basic forms change so much that wholesale modification have occurred. It is no longer possible to just modify the common forms. You must develop an understanding specific to each tuning and the new signature.
It may be more practical to develop an entire signature for the new tuning complete with chords and scales, and then study how diatonic rules are affected by the new tuning. In other words take a step back and work up a profile on this new tuning.
Tunings And Styles
Some tunings will give rise to and support an entire genre of music. A good example of this is the DADGAD tuning. This tuning is actually named dadgad. DADGAD is primarily used in Irish Celtic music. It is popular in different parts of America as well as other parts of the world. Music shops like Artichoke Music, in Portland Oregon are hot spots for Celtic music and this tuning.
I find that the DADGAD tuning favors some keys more than others because of the open strings. Playing in the key of D is easier than playing in C# for example. Remember in C# all the notes are sharped, C#, D#, E#, F#, G#, A# and B#. None of these notes occur in the open strings. So it mitigates the rich open string relationships that exist in many tunings. After you leave the open strings, things have a tendency to balance out.
Because of this open string flavor, alternate tuning are used extensively by acoustic guitarists. Folk and pop artists like Crosby Stills, Nash and Young and Joni Mitchell used a lot of alternate tunings some of them are still not widely known. These tunings helped establish these great artists and their music. It contributed to a unique sound.
Tunings
Here is a short list of alternate tunings you can try. There are many more tunings that are available, this is just a small sample.
The OLGA search engine is a good place to visit and look for songs using alternate tunings. You can review the internal construction of many different songs and find examples of additional tunings.
If you do not know the tuning used in a particular song, you will have a very difficult time reproducing the same effects and learning the song. The proper tuning of the guitar for songs is critical and most of the time you can find the tuning spelled on the tab sheet. You can also find a list of tunings specific artists use.
When you go back to a standard tuned guitar, it can seem simpler and much more straightforward to play and understand.
Here are some examples of how some tunings change the physical layout of the keys. These examples are all in the key of C. The specific tunings can be determined by looking at the notes above the fretboards.
Example Worksheets



Two Guitars Are Better Than One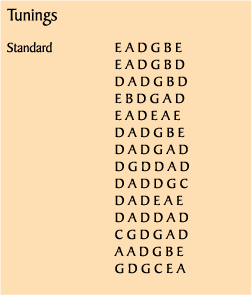 I suggest you dedicate one guitar to alternate tunings if you can. That way you can keep your regular guitar ready to play in the standard tuning while having an additional guitar available to experiment with. Sometimes it can be a real hassle to stop what you were doing and tune up your guitar so you can experiment with some new idea.
It is a good idea to change your strings regularly if you are going to change tunings frequently. Often times brittle or old strings will pop as you vary the tension on them to play in a new tuning. The high E string is very likely to snap first if you change it much.
If you are interested in trying this, I suggest you start by dropping your standard E tuning to the dropped D tuning. This is similar enough to the standard tuning so you will still be able to get around, but different enough that you will hear a difference. Try the standard chord forms you play now to see how they differ in this tuning. Try to notice how each chord is different. You may start to identify some relationships that contribute to this fresh sound. From there you can go in any direction you like.