Uncle Tim's Teaching Center

Introducing a teaching center based on rock solid information that is guaranteed to breathe life into your music. Together with Uncle Tim's First Year, the Teaching Center can change your life.
Inside you will find tools to make understanding and playing the guitar much easier. Everyone wants to play music, but the truth is the more you know, the more you can do with it. So we developed some new tools to work with Uncle Tim's First Year. This way you get all the benefit of the best beginner book for guitar available today, and the multimedia tools to make sure all the tricks, tip, techniques and hidden elements are available to every person, no matter what style you are interested in.
There are a million ways to get derailed when you try to do this. This site is designed to give you the tools to get past these killer barriers. If you don't want to take chances with your future, you have come to the right place. A few months here and you can be assured your skills are in place and you can take this incredible ability of music with you.
Don't become one of the people that always wanted to learn to play and never could get past the barriers, join now and put all of that behind you.
So lets look at some of the tools we use to get this to really take hold.
The Teaching Center is Built on Uncle Tim's First Year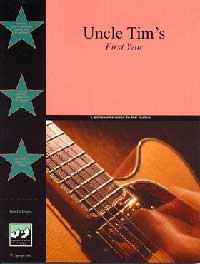 The foundation of Uncle Tim's Teaching Center is Uncle Tim's First Year. Inside this book you will find answers to almost all of the questions a new guitarist will have.
This 88 page book is so full of rock solid information laid out in an easy to understand and use way. This should be the very first tool new guitarist uses to enter into this very complex world of music. You will not find a better friend anywhere.
And considering you get all this for less than the price of one lesson, this books should be in every guitarist's library, no matter how long they have played. If your mind generates all sorts of questions about music you are having trouble answering, a few minutes with this book and the answers will become obvious. With a 6 year track already in place, this book is the best resource you can get if you want to play the guitar.
Video Scale Library
If you have ever wanted to explore scales and lead guitar, this tool will show you everything you need to know. The interesting thing is when people start using this tool, they usually report back that this is quite a bit more fun and interesting than they thought.
Everyone who plays scales reports back that all the promises made about what scales will do for your playing have come true! You know why?
Because scales are the single biggest tool available to create a good guitarist. Nothing will get you there faster than scales and not just any scales. And not just played any old way.
If you learn to play scales the wrong way, not only are you wasting your time, you are investing in bad technique. The problem is you invest time in bad technique which will not help you, in fact it will hurt you.
There are proper techniques that must be learned before you start to play scales and lead guitar. If you learn then right up front, then every day you build on what you have done the previous days. Otherwise every day you play, you reinforce bad habits. That is a deal killer right off the bat.
If you are going to play guitar, you will eventually spend a lot of time playing, if you are going to spend so much time playing, then spending a few minutes learning the basic will stop you from wasting this time developing bad habits and then reinforcing these bad habits every time you play.
This is one way people waste the opportunity to learn. They thought they only needed a few chords and then they could figure out the rest. What actually happens is they immediately get frustrated because they don't know enough to take control and use the instrument they way they envisioned. And all the time they play, they use these bad habits they have developed and ingrain them into their mind and muscle memory. And once you teach your muscles to use bad technique, it is very difficult to un teach them
And all the time, their mind is silently screaming to them to fix these problems and get this right. If you find yourself in this situation, the likely result is to give up. Gone, good bye, no music for you.
The Video Scale Library contains a full video for each scale, lots of easy to see (big) pictures and rock solid instruction about hand technique. This tool shows every move and every possible nuance encountered as you play leads and scales. There is nothing like the feeling you are learning the right way and making true progress playing. Nothing!
If you want to train your hand to do the right thing, this set of tools will take you step by step and show you everything in a simple, easy to understand way.
Realize this: It is no harder to learn the right way than it is the wrong way, and the two strategies will take you to two very different places. The video Scale Library is a very useful tool if you are trying to jump start you playing and you do not want to invest in dead end technique.
Chord Library
The Teaching Center contains an extensive chord library showing you at least 15 different ways of playing every basic chord, for every key. This is a new section that is coming on line now and will grow throughout the year. The major and minors are up now with more chord types being added every month.
If you are looking for alternative chord fingerings, you will find them here.
Cascading Chords
You will not find chord cascades anywhere else. All of these tools were developed out of Uncle Tim's copyrighted, visual mapping technique. Only Uncle Tim shows you 100% of the complete picture in a way that allows you to use these tools and information in your music right away.
Chord Cascades will fill in your chord library with stunning choices. You learn the basics of how they work here. I use chord cascades every time I write a new song. They are fully illustrated in Uncle Tim's Book of Chords but they ar explained and integrated here. They are used extensively in the lesson program, which is also in this site.
Flash Scale Animations
The flash scales will serve as a real time practice time tool. You can click on the looping feature and have an instant partner to practice with. They come in three different speeds so you can always find one that is the right speed for you and you have an instant practice partner. You can loop the scales for as long as you want and practice with them.
This tool will make sure you are hitting the correct notes and you understand each scale , and each pathway, from top to bottom. And it helps you put in valuable time and that is one of the keys to getting better without wasting time.
Flash Chord Animations
Think of the chord animations as miniature key studios that allow you to play chords inside each key in any fashion you want. This tool is very helpful for getting the feel of what a key can do. As you are learning to play chords, sometimes hearing them played can be a big help. Otherwise these question never get answered and then nag you every time you pick up the instrument. This can be overwhelmingly frustrating.
The Flash Chord Animations can allow you to experiment in any key and extensively play around with all the components of a key and really get to understand them. You can experiment with common chord progressions or come up with your own. If you are having trouble playing them correctly, this tool will help you to hear what they should sound like and help you to work towards achieving that for yourself.
Uncle Tim's Lesson Program
The lesson plan is an optional add in to the Teaching Center. This weekly set of lessons takes you through the basics, connects all the right and left hand information and gives you extensive exercise for finger picking, flat picking, strumming, linear lead playing, chord substitutions, basic scales, advanced scales and many, many more areas of study that most guitarists never address.
The lesson program uses video footage, mp3 files,pictures and diagrams to fully articulate Uncle Tim's First Year and is a serious tool for anyone who truly wants to better than everyone else. If you want to make serious progress starting right away, then consider adding on the lesson program. Lessons are broken into four semesters each twelve lessons deep and the fourth semester is free after you complete the first three semesters. The lesson took two years to develop and every week introduces new concepts in crystal clear language. This is a very big asset in learning to play.
Teaching Center Resources
As you begin to take control of your music, it usually means you need some resources to help you explore all of the ideas you develop as you go along. Here you will find tablature and musical notation blanks, fretboard blanks for lead and chord construction, schedules to help you keep track of practice routines, graph paper and Teaching Center letterhead. There is an animation on how to play a scale for the first time as well as how to play chords for the first time. No experience necessary, anyone can start here.
Download Center
Uncle Tim's eChord Chart provides basic and seventh chords (84 chords of each kind) in each key in handy printable sheets that you can keep in your guitar case. Any time you need to remember a chord or work in a key, help is as close as your guitar case. This eBook is downloaded and kept on your desktop for easy access.
Uncle Tim's Basic Chords is the second eBook in the download center. This eBook gives you three ways to play every chord with mp3 files so you can practice them and listen as you memorize them. This is a quick painless way of memorizing chords and their sound. This eBook is also downloaded and kept on your desktop for easy access. It is also available as a series of 24 web pages.
The Print Edition Of Uncle Tim's Newsletter
Over 350 very long pages of guitar related information that can broaden your understanding of music and help you understand all the different directions you can grow into. With your subscription to Uncle Tim's Teaching Center you can print out all this information and read it as you see fit. Lots of different subjects are examined and the same rock solid teaching approach will help you make sense of all of the intense concepts and information you will encounter as you get further into music.
The print newsletter is equivalent to three full length books jam packed with explosive and advanced information. Remember Uncle Tim can take you not only through the beginner stages, but right through the most advanced section of playing a guitar too.
A Growth Path A Mile Wide
As you leave the beginner stage and enter into the intermediate and advanced stages of playing guitar, you will be well set up to proceed. With a foundation this strong, you will be able to apply your technique and skills in any area and with any song you choose.
If you want to go into demanding styles of music like Jazz, Bluegrass, Country and even more complex pop, you will be able to understand what is important and take control.
Remember playing guitar is all about control. Even if you want to play freeform improvisational music, you must have control over the sound. The more control you have, the better you can craft the sound to suit your taste and needs. If there is a great performer and musician inside you, Uncle Tim's Teaching Center can help you get him or her out for everyone to see.
There are many additional resources available to you that will sit right on top of these first year skills. Here are a few.
Uncle Tim's Building Blocks. This intermediate to advanced book will teach you that if you can memorize three scales (which you will learn in this program), then you have access to every scale, in every key for the entire fretboard. This visual method of explaining the guitar maps every key completely so the entire structure of the guitar and music is laid out in front of you. This mapping can take you very, very far. In fact it can explain every aspect of musical structure you will encounter. When I would show this book to established musicians and guitar shop owners, the usual comments is "Why haven't we seen this before?"
Uncle Tim's Book of Chords. The mapping of the fretboard is extended in Uncle Tim's Book of Chords to totally connect chords with leads and scales. You will quickly see how chords are developed and then mapped for each key. Did you know that each key can be expressed visually? You can actually see what a key looks like.
Uncle Tim's eBooks. Almost every possible structure of music will be available in one of these eBooks. If you are interested in Jazz scales, you will find several different types. If you want tasteful chords you can use to give your playing a new and refreshing sound, you will find them here in several different types such as suspended seconds and fourths, seventh chords, basic triads in three different inversions, blues scales, melodic minor chords and scales and much more.
No matter what you need to know to take your music in the direction you want, you will find serious tools to take you there. Based on over 30 years of extensive playing and study, you will find years of solid resources and all of them are presented in the most easy to use ways.
If you have any doubts, check out some of the user comments from people that have already committed and reaped the results. If you think there is a musician inside you, together we can draw him or her out.
The Best Guarantee Based On Years Of Experience
All of this carries Uncle Tim's No Quibble Guarantee. We believe you will be so happy with the Teaching Center and Uncle Tim's fine guitar books that you will see the value within a very short time. And remember there is no rush for trying this. This program is 100% guaranteed to make you happy and turn you into a great guitarist that we put our no nonsense, no quibble guarantee on it. Click here to lead more about our privacy policy and guarantee.
Order today!
If you are serious about enjoying the guitar and you are ready to get started, then click here to start the process. We have developed several different packages to choose from to join. One of them is right for you.

$209.65 Uncle Tim's Teaching Center, all three books (and free pick case) and complete Lessons
Click here to see all purchase options.

Uncle Tim's First Year $14.95

Uncle Tim's Building Blocks $19.95

Uncle Tim's Book of Chords $19.95

Purchase all three and get a free leather pickcase. $54.85
Don't wait, do it today while this free offer is available. Order right here using our secure server and get ready to elevate your playing in a way you did not believe possible. Uncle Tim's books work!