Bob Westbrook's Handy Diagram For Stringing A Guitar
Life - 1939 to 2012
The Easiest Way To Master The Fretboard!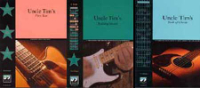 The series was developed visually, because people natively think visually. You do not have to interpret a picture. You can understand it by looking at it.
And when you combine it with knowledgable text, the meaning and rules of music will jump out at you!
Immediately you will begin to see into the instrument and develop an understanding that is not possible any other way.
This is one of the main reasons this series of books carry a lifetime guarantee. We back up our words with an iron clad policy that has been in place for years!
eBooks are delivered instantly!
Bob passed away on October 21, 2012 at the age of 73. He is missed by all who had the chance to know him.
Setting up a new guitar can be broken into two jobs. Stringing the new strings throug the bridge and setting up the tuning pegs. In addition to that, the techniques and physical layout differs significantly between an acoustic and classic style guitar.
Below is the best way I have ever seen to set up the tuning pegs of an acoustic guitar. This takes a minute to understand, however, it yields results that are superior. Very seldom does this method allow the string to slip.
Click here if you are interested in learning how to set up a classic guitar. The techniques of stringing the guitar and then applying Bob's technique below are a little different for a classic guitar, so I took some time and documented the whole process. I hope this helps you.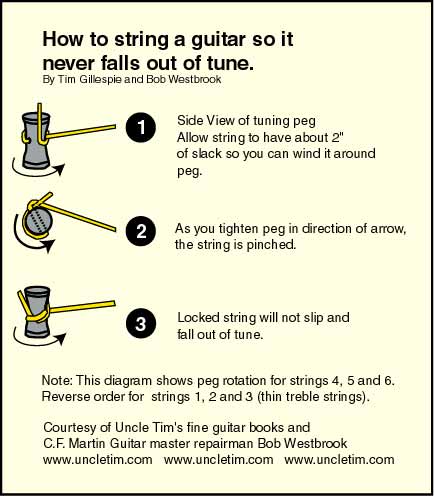 Bob Westbrook has done repair work for the C. F. Martin Guitar Co. for years. He is no ordinary luthier. My favorite story about Bob's legendary ability to make guitars is a short one. Bob has told me more than once, "when people found out I work out details to the thousands of an inch, they would laugh. Until they saw my first guitar.

Bob's extensive machining background prepared him to become a master craftsman and work with very tight tolerances. He built his own car which he took to the Bonneville Salt Flats in Utah, and set the land speed record years ago, (I saw his speed tickets verifying this).
I have talked to many people who own guitars Bob has worked on, and he always exceeds expectations, no matter what the case. I have seen guitars that I never thought would be playable again, only to be astonished at the results.
When Bob was my neighbor in Boulder CO, I would occasionally notice guitarists walking in front of my house with a broken instrument. At the time, I didn't realize they were mostly highly experienced guitarists on tour that would carry around a broken guitar until they played Boulder. Then they would walk over to Bob's house and drop it off.
Bob Westbrook is a master luthier and his advice should be taken seriously. Here then, is how Bob suggests you string a guitar so it will not easily go out of tune. I have done this for years and it works.
Thank you Bob!