Uncle Tim's
e

Books

Notice: Price drop! All ebooks are now $9.95. Consider these eBooks to be extensions of the Uncle Tim Series for the Guitar. They all use the same visual layout as the Uncle Tim Series. They all contain full sets of information, either chords in the form of triad cascades or complete scales for every key in whatever key type you are referencing. This, for the serious guitarist, is a very big deal. Particularly if you are writing songs or lead lines and you are looking for creative pathways to help you construct parts. They are also massively helpful in practice sessions for developing finger gymnastics and understanding your way around a fretboard. These is no substitute for giving your hands, and your brain, a good workout.

Each eBook covers a specific subject and always uses our visual format so you can use it at a glance. Each ebook covers all twelve major and minor keys, even with most minor scale types. We deliver our eBooks in web page format these days. Why? Because it is the simplest way to do it and it provides everything we need these eBooks to do. It allows us to provide instant access too. Plus each eBook os formatted to print on a standard ink jet printer, so you can quickly print out a set for your guitar case. That's what I do.
These ebooks can be downloaded by anyone with a web browser. So we offer maximum Windows, Macintosh and Linux compatibility. In the old days it was just one platform.
Each page is printable as a single sheet on a standard ink jet printer, so you can print out a copy and use it on a music stand. This is a great help and you do not waste paper.
You can access it at any time by logging into our private areas and viewing any and all eBooks you have purchased. You get a login name and password of your choosing, so we store this eBook for you. Each eBook is available for two year cycles and you can extend it at any time for free.
These eBooks are available for immediate access by purchasing through our new portal available here.

Click here to use our immediate access system.


Only this system provides instant access. The on-line store needs to be processed manually.
Each eBook has a contact page right in the eBook, so you can always ask a question.
Our incredible lifetime guarantee extends to these eBooks too. You must be completely satisfied.
Our Privacy Policy applies here too. We never give out any information and we do not store credit card information so there is nothing to steal.

Uncle Tim's eBooks are designed to provide powerful information for guitar and bass guitar players at the speed of the Internet. Each eBook covers a specific field of interest completely. It is delivered at the time of purchase and is immediately accessible. Now you can build on the work in The Uncle Tim Series by expanding your personal library to include the areas of study you are interested in without a lot of extraneous information you never wanted in the first place.
Notice all the chords in the string set are illustrated with chord names and neighboring chords all shown. All four three string sets are shown. If you have used Uncle Tim's Book of Chords, this will be a natural extension.
Notice all 24 frets are shown so you can see how the entire cascade works.
All the notes in the scale are shown for the strings. If you want to combine some neighboring notes (always in the key) all you have to do is choose some and start experimenting.
All concepts are shown visually. You never have to read musical notation to use the information. Visual information translated into immediate use.
Uncle Tim's eBooks are not dry, written out musical notation. They are colorful pictures combined with text to teach wonderful, but hidden concepts.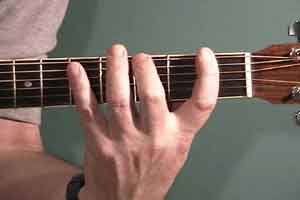 Most eBooks are 17 pages in length, will cover all twelve keys and are presented in full color with easy navigation buttons. In addition most eBooks also contain a printable, typeset version inside them, or are print ready. So you get the best of both worlds. You get immediate access to the information you want, with all the benefits the Internet can bring like animations, easy navigation buttons and color, and high quality print medium that can be easily used when you choose to be away from your computer.
At the time of purchase our servers will confirm your purchase and send you access codes to unlock your eBook on the spot. Each eBook will be active for two years (you can extend this for free) and all of them can be printed so you can have a permanent record. You can keep a copy in your permanent library and in your guitar case. You can print out a set and mark them up with comments and notes based on what you are learning and applying.
Whether you are looking for basic chords in a key or the complete blues scales for any key, Uncle Tim has the answers. And now you can get them in about the same time it took to read this.
No doubt about it, Uncle Tim's Books work. And now they are delivered at the speed of the Internet.
Purchase these eBooks here!
Use the Paypal option to gain immediate access to this eBook or shop at the Uncletim store. Access takes a little longer that way.

This is the method to use for immediate access after secure payment. Click to purchase

Click here to enter Uncle Tim's secure Store. This is not an immediate access option.