Uncle Tim's Building Blocks - Guitar Scales - Diatonic and Pentatonic Scales
Purchase Uncle Tim's Building Blocks Here

Purchase Uncle Tim's Building Blocks $19.95

Purchase all three books $54.85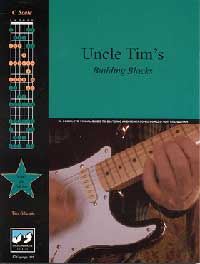 As soon as I got to the counter, I could see this guy ripping off leads. For a moment I just stopped and stared at what he was doing. Lead lines were coming off left and right. He didn't even look like he was trying very hard. How did he do that, I wondered. It seemed he had two or three fingers constantly flying around the fretboard. All the notes sounded like they belonged together. They all fit in some unknown way and worked together. This is what I am trying to do, I thought to myself. But the notes were coming so fast all I could do was stop and stare. I think my mouth was open.

I wanted to stop the guy and ask him how he did that. Another few seconds went by. I had played guitar for about 6 months when I had this experience. For the most part I was learning chords and trying to figure out some songs. I felt that I was about as good as most guitarists my age, except for a few guys that were a lot better. I was about 15 at the time. I had a cheap electric guitar and no amp. But I played it a lot, and sometimes some other players would show me things. That usually happened when they were trying to impress some girl and I was just a prop for them. But I still took advantage of it because I really had no other avenues from which to learn. Except for my stereo.

By now that urge to shout out "how do you do that" was overwhelming. I stopped the guy playing. The only thing I said to the guy was "how can I do that". He turned, grabbed a thin book and handed it to me. He then went back to playing, and I never saw him again.
He gave me a book of diatonic scales. It was in musical notation, but that was no problem. I was playing some classical guitar and reading music was something I could do. In fact it was something that was getting in the way of becoming a guitar player. But everyone told me this is how you do it, and I didn't know better.
I thought you had to read music to play the guitar.
But reading music and playing scales is easier than trying to learn how to play songs by reading and using it as the primary way you interface with a guitar. All I had to do was read the little black notes and figure out where to press the strings down. It took about a year to be able to play half of the scales. When I got into the keys with more sharps, I bogged down.
So I got to know the keys of C, G , D, A and E really well. They have the fewest sharps. They are the first keys in the Circle of Fifths. Most of the people telling me how to learn didn't even know why the Circle of Fifths was so important.

But that year held the biggest change for me. I engaged the guitar in a way I hoped I would. The strength in my fingers had increased so much that I couldn't believe it. I was blowing through guitar strings in a few days. I had giant calluses on my fretboard fingers. When I wasn't playing my guitar, I was thinking about it. It felt so good to just think about what I was doing and the new direction I was forging. The funny thing is scales were supposed to be boring. That is what almost everybody told me. That's why nobody else played them at all.
About three months after I started playing scales, something new just showed up one day. I was listening to the radio and a song came on that I liked. It was a Jeff Beck song in the key of C.
The key of C is the logical starting place when you study scales because it has no sharps or flats. It is the easiest scale to play and it happened to be one I knew well. As the song started, I wondered what key it was in. I ran my index finger up the low E string until I heard the note of the key. My intention was to find out the note of the key and then play the chord and try to figure out the song.
Instead, by habit I ran a C scale off the C note on the low E string. The scale without any alteration, fit the song like Jeff Beck was playing it. Or at least that is how it seemed to me. It was like something just hit me between the eyes. I ran another C scale and it happened again. It really surprised me how the scale fit right over the music.
For the next few hours all I did was experiment with solos over the music I heard on the radio.
The first time this happened to me it felt like I was galloping on a horse. I was swept away with the rhythm.
I was hooked! Now it made sense to me. This is what the guy in the store meant when he handed me the scale book. This is the true meaning of scales. This is how you get there from here (so to speak).
I had a huge secret. It took over a year but finally it dawned on me. Now I knew why none of my friends could play lead guitar. They didn't know how to go about it. They thought scales were boring. They never gave themselves a chance. They dismissed scales before they ever developed any idea of what they actually do.
They never felt the surge in muscle strength. They never got the positive reinforcement that scales gave me every day. They never gained the ability to play more difficult and more interesting things overnight. The whole thing has passed them by.
It was a highly regarded treasure of mine and it was right under their noses. What was even funnier was that, I was starting to get nice comments about the secondary guitar parts I would add. People would stop talking and watch me play a part. At times I could inject a line of notes that were right on the money.
Other guitarists even quietly asked me to show them what I was playing. None of that ever happened before. A year earlier that would have meant the world to me. It was one of the motivating forces behind my efforts to learn. But when it started to happen, I really gave it no thought other than to note it was a symptom of getting better. My motivation totally changed to pursuing the increase in ability my secret was providing. I was really hooked, and scales were the first big driving force. And no one knew it.

Understanding keys is one of the main components in a solid foundation. Everything comes from keys. Even music outside diatonic tonal centers can be understood by knowing keys. Almost all guitarists spend all of their time in one key or another.
Scales are one of two basements skills in a foundation. The other is chording.
The better you know these two skills, the more responsive your music will become. This knowledge will open a path a mile wide, and fill it with information that will tease your brain and beg to be included in what you play.
You will play longer if for no other reason than you will have more to play. Lots more. You will be flooded with ideas. If you find yourself playing with a rhythm guitarist, you may forget about everything else and play things you have never played before. If you don't record it you may not become aware of how good it can sound.
Pleasant things that sound good to you. It unleashes your creativity. The better you know it, the more creative you become. And it is all sitting on a very solid foundation of skills. This is how people get unshakable.

Get a copy of Uncle Tim's Building Blocks now and start while you are thinking about it. Use our secure order form.
Lead guitar is based on linear streams of music. That means most (not all) of the time you are playing single notes, one after another. Lead guitar quite often controls the direction of the music because it is a very strong force when played over a progression of chords. Almost everyone would like to be able to lay a lead down, but they usually can't.

The quickest way to play a lead, is to start with a scale. Not any scale, the right scale. But playing the right scale is not enough. You must know lots of scales. Why? Scales are the backbone of lead guitar. They are the only sure way to become a lead guitarist.
If you play scales regularly, your ability to play a lead will not be far behind. Scales will jump start your ability to play lead guitar like nothing else can. Even on a electric guitar, playing lead takes strength and endurance. Not to mention you must know what to play.
While playing a lead, you almost never play a scale note for note. Usually you use the scale as a palette, and choose the notes you play, from the palette. You must be familiar with the palette to do this. Your taste determines the sound and the appeal of your lead line.
But there are two problems a person encounters when learning to use scales to play lead guitar. The first one is scales are hard to learn. Most players only know a small subset of the scales available and they all seem so disconnected. Working through all twelve major and minor keys is time consuming and requires extensive study of musical notation.

Reading musical notation and transferring that information to the fretboard probably stops more people than all the other reasons combined. The true secrets of scales and music are almost always locked away in musical notation. There are very few scale guides that help you to understand the similarities. And only one that will teach you all of the scales for every key in a matter of days. Only one! Uncle Tim's Building Blocks! Get it right here.
Here is a promise of what you will learn in Uncle Tim's Building Blocks.
1. A complete understanding of diatonic and pentatonic scales for the entire guitar that you can use to become a lead guitarist. Every fret, every string, every position on the fretboard for every key. Not just your favorite keys.
2. Even better is that I will show you how to do it by memorizing 5% of what traditional methods demand. That means 95% of the work is totally eliminated! I spent over 15 years learning scales the traditional way. I know what I am talking about.
When people on the shop floor at the C. F. Martin Guitar Co. read it, they saw this too! I will tell you what happened in a minute.
But first, understand this: no tricks, no gimmicks!
Just a clear visual understanding of the rules of music. It is so simple, you will wonder why anyone would ever learn it any other way.
With Uncle Tim's Building Blocks you can give your ability a serious boost the very first day. And I guarantee you will get it. Uncle Tim's Building Blocks will show you something reading music never will. It will show you a complete visual matrix that is the framework of every key.

Every key uses the same matrix. No changes, ever! No exceptions to this rule either. The visual matrix will quickly expose the absolute order of the fretboard. And the rules of music dictate that this matrix exists. The inventors of the guitar had this in mind when they developed frets and chose the tuning of the strings.
This visual matrix explains how the whole thing works. Remember every key uses this matrix. All keys adhere to the same physical pattern. If you know it for one key, you know all the keys. When you learn this, it will make you laugh! Guaranteed! All 24 keys!
Remember there are 12 major and 12 minor keys. That's a total of 24 keys. This matrix works for all 24 keys. No exceptions! It's hard to describe it but incredibly easy to see it. And then hearing the rules will blow you away because you will be able to see them in action! You will quickly understand music on the guitar at a very deep level. From that point forward you can use it to shape your ability to play lead guitar. You are off on a very advanced path.
How is this possible? As I noted in the examples, there is one signature of notes on the guitar that all of this comes from. I can show you how to memorize it right away. As with anything of value, the true power of this system will take a while to master.

But you will see the value right away, and it will give you direction. Once this signature is learned, you have immediate access to every scale in every key for the entire fretboard! You can play a lead anytime. I can show you how to memorize it easily in about one hour. Let me repeat myself, this is not hard! This is very advanced! If you take the time to learn this, you will use it every day you play guitar.

When I sent a copy of this book to The C.F. Martin Guitar Co. in the fall of 1995, they passed it around the shop floor. Everyone that read it marked down their comments right in the book. When I asked what they thought, here is exactly what my contact said. "The comments are so favorable, we want to carry it in our store".
The C. F. Martin Co. has a retail store attached to their factory in Nazareth, PA. It is called The 1833 Shop. I didn't even know they had a store, I thought they were just going to give me some feedback. I am proud to say, they continue to carry it and have even added it to their accessories catalogue.
They offer this book to every person that buys a Martin Guitar and every Martin Guitar dealer. This is the same book I offer to you now with a no risk guarantee that you will love it, or you can get your money back, no questions asked. See our risk free 100% satisfaction guaranteed policy. Or if you want it now, Order it here using our secure server!
One button ordering, just click.

Purchase Uncle Tim's Building Blocks $19.95
If you want to understand music, this book is guaranteed to supercharge you! Your knowledge of music will take shape within the first few pages. A doctor in Puerto Rico described it as "a must have resource for any serious guitarist."
Many people have picked it up and said "this is how I think". Another common thing to hear music store owners say is, "I wish this was available when I was learning". I hear it all the time. If you are trying to become a lead guitarist, this is the ticket. You will be a different guitarist in a matter of days.

I spent years learning scales through the traditional methods. Then I took the information I had learned at such a great cost of time and effort and found a much easier way to learn it. In fact it is the easiest way to learn it.
I found this out by visually mapping the entire fretboard. There is a simple pattern of notes on the fretboard. It is so simple that anyone can learn it. Once learned, it provides immediate access to every scale for every key for the entire fretboard. It is very easy and absolutely 100% complete. It actually explains everything if you examine how it is created.

But the point is i was being taught the slowest and most difficult way.
THAT MADE ME MAD! It did not have to be so hard. It actually could be much easier, much more fun and that additional time could have been poured into getting better.

Remember I said there are two basement skills that shape your foundation? Chords are the second half. Think about this. If scales create chords (which they do), and scales adhere to a physical pattern, doesn't it make sense that chords will adhere to the same easy physical pattern. Yes it does make sense. And yes they do! Check out Uncle Tim's Book of Chords too!
The level of information I kept inside my head, (which was immediately available for improvisation) was an order of magnitude higher than almost everyone I played with. Even the people that were still better than me. I always had new ideas because I would explore all the fun concepts that occurred to me as I would play this stuff.
Don't get me wrong. I still had to work to get better. Knowledge alone is not enough. But I had direction. I knew I had a very in-depth understanding. My confidence level exploded. My fingers became very strong. Yours will too and you have a risk free offer to try it for yourself! Order it here! Two days from right now you can be on the road to igniting your potential. And if you don't agree, you have lost nothing. The guarantee is a condition of doing business and totally risk free to you.

There is another secret of scales and one of the reasons many people do not see the value of scales. Incubation! Incubation is the time lag that occurs when you study and workout. The first thing that happens is this. Your brain gets the message. You understand it in your head, then this information is usually directed to your fingers.
Since your muscles do not know how to do it yet, you struggle. In as little as ten attempts (about ten minutes), you will probably begin to string notes together. If you play for one hour there is a noticeable difference from when you started. But for many people, they don't get enough of a charge from it to do it again. Here comes the killer mistake! They stop!
They don't do it again. If they did, almost for sure there would be a slight but noticeable pickup in their ability to play it. Within a few practice sessions, it might even feel comfortable. In six months, it will create such a huge gap between where you were and where you are going, that you will never again be the same guitarist. You will keep the good parts and add lots more. The hidden effect is incubation.
People do not understand that the practice you put in last week has incubated and now when you play, you can do things you could not do the day before. Another hidden effect is this practice magnifies your skills over time. It doesn't just happen for a little while and then get lost in the background.
The effect accumulates over time and gets bigger and bigger.
It's like a small snowball rolling down a long hill. The gap between a player that does this and one who does not, just continues to get bigger. The passage of time makes you better, much quicker. No one starts out great! Everyone builds their skills. Everyone!

Here is a great side effect to this method. When I developed my web page, I needed to obtain a merchant account so I could take credit cards over the net. Needless to say there were quite a few people trying to get my business. One guy that talked to me about setting up an account bought a copy of this book.
When I called him back he told me that he tried Uncle Tim's Building Blocks and as soon as he did, his playing changed on the spot. He noticed it, but the impact became clear when his wife came in and immediately commented. Even after I told him he wasn't going to get the business he still bought my other books. Order now!

Who is this book for?
Anyone who is trying to emerge from the beginner frame of mind.
Anyone who wants to understand the entire fretboard, including linking the open string position with the higher areas.
Anyone who is wondering about practical application of theory on a guitar.
Anyone who is looking for the easiest and most complete scale book available.
Anyone who is trying to become a lead guitarist.
Lazy people.
Any rhythm guitarist who wants to know something about "the other side".
Anyone who wants to get better and is willing to work a little.
It will work very well for these people.

So how much is this worth? If you are trying to play lead guitar, it is invaluable. Lessons from teachers that use this book would cost hundreds of dollars. I would like to point out, there are many fine teachers all over the U.S. that use this book and will give you lessons based on it.
But for less than the price of a single lesson, you can get a copy today. You can get this book right here for only $19.95 (U.S.). Just by clicking on this link Order it here! Remember we back this up with our unconditional guarantee. And this guarantee has no time limit.
Take your time examining it. But remember: to get this lifetime guarantee, you must order it at this web site.
Book stores and music stores have their own return policies. Only we offer a full lifetime guarantee. I don't want any misunderstanding here.

We recommend you use our secure server for a completely safe method of ordering. Click here to use our secure server! If you want you can use our non-secure form, print it and mail it or fax it to us. We will confirm receipt with an email. You can always use our toll free phone number, 800-472-4308, or our fax number 720 246-0395.

Just print out the non-secure order form and mail it to:
Mountain Studios
1025 Oakdale Place
Boulder CO 80304
We ship every day Monday through Friday. We stand behind our work!

Uncle Tim's Building Blocks Price $19.95
Author: Tim Gillespie
Fifth printing 2004
96 pages
Hundreds of illustrations
Cover: 4 color, film laminate, perfect binding (this binding will not tear out).
ISBN 0-9647059-7-4
Library of Congress Card Catalog Number 95-77468
Price $19.95
Copyright 1995
Publisher MOUNTAIN STUDIOS