About Uncle Tim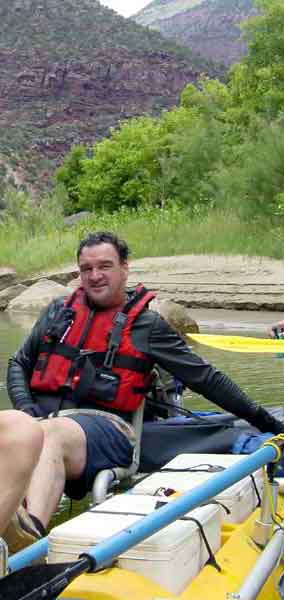 Tim Gillespie started playing guitar seriously around the age of fifteen. He has been playing for about 33 years as of the date of this copyright. Throughout this time Tim has always maintained a continuous study of music and music theory.
This study has centered around the practical application of theory to his own music, song writing and improvisation. Rather than seeking the spot light, Tim conducts most of his music deep in desert canyons and high mountain valleys.
In this picture you can see the author inside Dinosaur National Monument and The Gates of Ladore.
An avid outdoors person, Tim has thousands of miles hiking the Rocky Mountains and boating the great western rivers. Once in a while he works. In addition to founding Mountain Studios Publishing Company, Tim is an avid photographer and Landscape Architect. He holds both a Bachelor's degree in Landscape Architecture and a Master's of Business Administration degree.
Tim published Uncle Tim's Building Blocks in 1995 and soon followed it with Uncle Tim's Book of Chords in 1996. Two years later he wrote and published Uncle Tim's First Year, a beginner's guide to guitar. In the next few years he wrote 17 eBooks and created an on line teaching center, which you can subscribe to here.
Tim is currently hard at work finishing the next two books in the Uncle Tim series. So when he is not working on his next projects, you can find Tim on South Arapahoe Peak or running the white water of the Middle Fork of the Salmon and other great western rivers.
If you are interested in seeing his latest project, check out his photography web site www.theflatirons.com