Online Lessons Based On Uncle Tim's First Year - learn to play guitar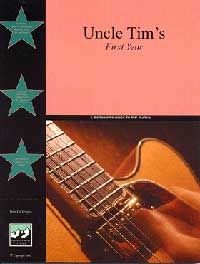 For the first time you can now receive lessons based on Uncle Tim's First Year.
These lessons are in the form of downloadable eBooks. They are simple to use, active for a full five years and breathe life into the material in Uncle Tim's First Year.
Along with reading and learning about every concept a new guitar player needs to know about, you can now see and hear and watch me play all of these concepts. Now you can hear all of the chords we use, all of the scales we play and all sorts of exerciese, finger picking patterns and other elements that are much better with multi media. As always our material all carries our rock solid guarantee. Click here for details
These lessons can be ordered separately or with Uncle Tim's First Year. Below is a brief description of each eBook. ALthough you can download them all right here, you must have a user name and password which is supplied when you purchase them.
Each semester is $44.95 and contains 12 lessons. Each lessons builds on the one before it and you can take a week or a month on each one. These eBooks are active for five years, and you can get it extended at no additional charge. All you have to do is ask.
In a few weeks we hope to deliver the access codes in real time, but for a few weeks we are going to do it manually. We are currently upgrading our systems. So it might take up to a day to email the codes to you.
Each eBook is contained in an easy to use eBook that you can download and keep on your hard drive. That way you can open it and use it whenever you want, even if you do not have an Internet connection. It also means you will not lose it becuase it is all contained in one .exe file. And if you do misplace it, just come back and download it again. Your access code will work and you get one code for all twelve eBooks. That means the eBook will not hassle you for it time after time. This is a very convenient solution.
And the best part is all of this is meant to make Uncle Tim's First Year even better. We give lesson one away for free so download it and give it a try.
You will have to let the eBook communicate over your Internet connection so your firewall program will probably ask you if you want to allow it. You also might receive a warning that this is an executable file, but it is totally safe. We have delivered information using eBooks for several years now without any problem.