Playing Guitar - How Good Will You Be At The End Of Summer
By Tim Gillespie
Resources You Will Keep Forever!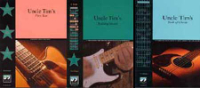 Absolutely the definitive answer for understanding the guitar.
The Uncle Tim Series is sold into recording studios over the U.S. and are used by professional musicans and teachers everwhere.
If you are serious about guitar, these resources are indispensable.
Instead of wondering about everything, now you can know it all. And much easier than you might think. Pick up a copy today.
eBooks are delivered instantly!
How Good Will You Be At The End Of This Summer?
I admit it, I take a lot of vacations. Last year I did a white water trip down the Middle Fork of The Salmon. This July I get to run the white water in Dinosaur National Monument in Colorado and Utah. Most weekends my friends, family and I, camp, hike or do something outside. Most summers go by in the blink of an eye.
Click here to see a photo of Dinosaur National Monument (Okay so it's off the subject, but it's fun).
This time of the year I try to pick something musical and really get to know it over the Summer. Some Summers it is a study of technique, other Summers I pick some songs and try to add them to my list. I must admit, it is hard to find the time to do this and if I am not disciplined, my plans will fall through.
This year I have decided to add a few more songs to my list. I have not picked them yet but I will develop a list and go find the sheet music and begin to set time aside. I have a couple of big books that have all sorts of songs in it. I can always open it up and run through some of the old ones or try to put together enough new ones that I can compile a new song list.
If I make a list of critical elements or songs to learn, they seem to get done, but only if I make a concerted effort. This is preparation for joining some new jam sessions and maybe forming a new group in the fall. Nothing certain, just some basic preparation. But I want to come out of the Summer with the feeling I am on top of things.
Summer is a time where the expectations for learning seem to take a back seat to leisure. But it can still be a time of solid growth. Small projects that can garner no time in the busy months might be a fun distraction in the Summer.
There are many opportunities to steal some time and put in some work. For me the early morning hours are best. After dinner seems to be a good time too. Oddly enough white water and deep wilderness hikes do not seem to be a good time for me. I am so distracted that the best I can hope for is to bang out a few tunes while I look at the scenery. Casual car camping trips are much better for playing.
Since I work with so many music stores, I get a chance to talk to a fair number of teachers. Right now they seem to be getting ready to dismiss a good deal of their students for the Summer. This happens every Summer sometime in June, and this year looks to be no exception. Often times they come back in the fall looking for new inspiration and some direction.
A way to keep your focus through the Summer is to learn something new. If there is something you have been meaning to do over the past few years, maybe this Summer would be a good time to make some progress. I have gone through periods when the only thing that would motivate me was to start jamming with a group of people and develop some songs. You can burn out on anything if you get out of balance.
If most of your time on a guitar has been spent playing out or recording songs, then a little technique might be the change of direction that keeps it interesting. Sometimes it is helpful to just sort out the elements and make sure all the different aspects of your playing are getting attention.
Most of us look forward to getting back into our instrument when the cool temperatures of fall approach, but now might be the time to prepare for that. The next three months can be a good opportunity to shore up a loose end, add a new skill or learn a new song.
If nothing stirs your sole then consider this. Make an effort to pick up your guitar whenever you can and run through the songs that you work so hard to be able to play. There are a lot of shady spots under quiet trees that offer solitude and few distractions. Maybe this Summer you should go out and get to know a few.