Playing Guitar - Sound Check
Resources You Will Keep Forever!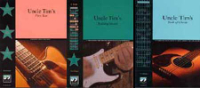 Absolutely the definitive answer for understanding the guitar.
The Uncle Tim Series is sold into recording studios over the U.S. and are used by professional musicans and teachers everwhere.
If you are serious about guitar, these resources are indispensable.
Instead of wondering about everything, now you can know it all. And much easier than you might think. Pick up a copy today.
eBooks are delivered instantly!
This month we are going to look at ear training. Ear training helps a person to hear better. The sounds and language coming from a guitar are not necessarily native to people. Sure we can hear fine, but these tones are complex and there are intense relationships between the tones. Once a person gets in tune with this auditory process, the world of tones may never be the same again.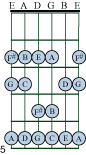 This month we are going to play with identifying intervals in the key of G major. Interval training is a very important part of hearing well and understanding what you are hearing. It is easy to take this for granted, after all you listen to sounds every day. But do you really listen closely. Believe it or not this is a skill you have to work on. What we are interested in, is telling the difference between tones. These tones are very close to one another and make up the scale of G major.
But we are not going to listen to just a single tone at a time. We are going to listen to two tones together. The first tone will be the G note. The next tone will be one of the seven notes in the key of G major. When you hear the tones, stop and think of the scale of G major and try to identify which of the seven tones you are hearing.
The skill is in telling where in the scale the second tone comes from. By developing this skill, you will become familiar with the scale of G major and the qualities of each of the notes in the key. You will also start to understand the relationships between tonic and the various notes in the key.
While this is a simple tool, my guess is that you miss at least a couple at first. I did. You can easily cheat and scroll down below and reverse engineer this process, but don't! This is kind of fun. Take a few minutes and give this a try and see if you find it interesting.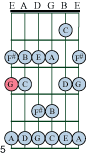 Here is how I suggest you do this. Read all the steps first, before clicking.
1. Start cold with exercise 1. Click here to start.
2. Go through each one and see how you do. Once you work through the exercise, go one to the next one and do not memorize your answers. You want to practice a little and then try again. If you quickly move on, you might have to re think it the second time through. That is what you want.
3. Come back to this page and read it and practice hearing the scale, both upwards and downwards. Then listen to the intervals. Play this material and try to listen to the differences sin pitch when the scale and intervals are played. Count them as you listen to them too. Start with 1-2, then 1-3. 1-4. 1-5. 1-6 and 1-7.
4. Sing along with them too. Try all sorts of different exercises that might help you make sense of the ordering of these notes. You are trying to get your mind to recognize the differences in pitch when you hear them. This is a very valuable skill and may help you to really learn to listen to the sounds you make.
You can hear each interval with the picture of what is being played below. But I suggest staying away from them until you play with this for awhile. It can be great fun.
1 & 2 Degrees

1 & 3 Degrees

1 & 4 Degrees

1 & 5 Degrees

1 & 6 Degrees

1 & 7 Degrees

Octaves
So what should take away from all of this? From now on, when you are playing your guitar, maybe you will start to think about the relationships between tones a little more deeply. Maybe you will gain some additional ability to discern what you are hearing, as you are hearing it. And maybe you will begin to hear the sets of tones as families of ntoes that cause music to intertwine within itself.
Maybe you will begin to visualize the relationships in the diferent streams of music you will encounter.
I hope so!
| | | | | | | | |
| --- | --- | --- | --- | --- | --- | --- | --- |
| Exercises | | | | | | | |