Playing Harmonics On A Guitar
If You Are Going To Play In A Key Every Day, Shouldn't You Learn That Way?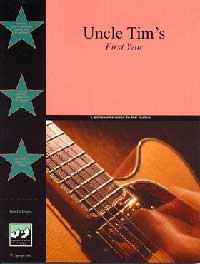 Yes, you should!
Music is key based. You are always in one key or another. Always!
Yet playing a guitar is not taught that way! Why?
Once you understand keys and the chords and scales that come from keys, the whole world of music opens up before your eyes!
Suddenly everything is MUCH easier. And it totally makes sense when you get into it.
For $15, you can put this all to rest right now. Pick up a copy today.
eBooks are delivered instantly!
This month we are going to talk about something I have wanted to write about for some time now, Harmonics.
Harmonics have a nice sound that is pleasing to listen to and fun to play with. They are a curious feature of the guitar and one that is not used much. I think they are an instant opportunity to gather a new trick or two or add a little flash your lead work. I hope you will get a glimpse of what I see in harmonics.
I was a little jazzed when I got the mail earlier this month. Fortunately for me, I got a little present in the mail, a valid permit to float one of the great western canyons. It is a break from the usual subject but at least I included a few nice pictures.
Every time I hear an artist use harmonics creatively, I can't help but admire the thought that went into the inclusion of this terrific tool. Harmonics are not used very often. When used correctly they are very powerful.
Harmonics, or overtones, are just more notes that can be used to create a song. However, harmonics are in a higher register than the notes you play by pressing a string down. And they have a different sound.
Rather than describe the physics of the process, I will direct you to an excellent article on the subject written by Scott Lehman, for Harmony Central. Scott does a pretty good job of outlining the physical processes and what is actually happening. Highly recommended reading.
In past columns I have used "Mood For A Day" as an example. In one of the endings, Howe finished with two harmonic notes that ring out after playing a sweet ending run.
The physical dexterity necessary to position one's hand while ever so gently touching the string with the correct tension, at the correct spot, in time, while playing these harmonic notes, takes huge technical prowess as well as excellent timing. Combine this with the creative knowledge of when to use harmonics, and you have another excellent tool to help you become a powerful guitarist.
Harmonics are often times, one of the first things a new guitarist will explore. But often it is not woven in with the other tools and so they are not used very much.
Harmonics are easiest to produce at the twelfth fret. You can try it now by doing this. Hold your guitar as you would normally. Place one of your fretboard fingers on the low E string, at the twelfth fret. Do not press the string down, just touch it lightly at the twelfth fret. While your finger is touching the low E string at the twelfth fret, strike the string with either the pick or your finger. Then let go of the string with your fretboard hand. The trick is to sound the string without deadening or muting it. Here is a picture of your fretboard hand. By the way, I am holding the guitar like this, for the camera. My thumb is actually out of position.
Standard Harmonic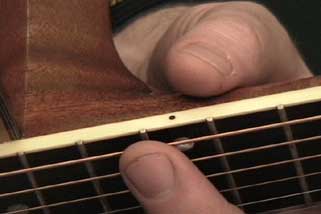 Touch the string with your fretboard hand and then strike the string with your pick hand and you should hear a harmonic.
If you play it right you should hear a harmonic. A harmonic sounds similar to the base (fundamental) note, however there is less information contained in the sound wave. The base note (or fundamental) sound is excluded.
By touching the string at the twelfth fret, you are stopping that point on the string from vibrating as you strike it. The string vibrates below and above where you are touching it, but not at the point where you are touching it.
This creates the harmonic sound. The note of the harmonic is still an E note, but it is an octave higher (if you play it at the twelfth fret).
When you play a harmonic at the twelfth fret, it is called a second harmonic. The first harmonic is the actual note.
In the example we are working with, let's continue and explore up to the fourth harmonic. We will stop there because that is the extent of the practical applications of music.
The fundamental is the E note, that is the term for the base note. That base note is the first harmonic. It is also the note of the open string E (in this example). The second harmonic is located at the twelfth fret. If you sound it, you will play a E note one octave higher than the open string E note.
The third harmonic is found on the seventh fret. According to Lehman, the third harmonic creates a tone which is an octave and a fifth above the fundamental. That means it is a B note.
Example

First Octave

Second Octave

Degree

1

2

3

4

5

6

7

1

2

3

4

5

6

7

1

Note

E

F

G

A

B

C

D

E

F

G

A

B

C

D

E
Do you see the B note is one octave and a fifth above the fundamental note (E)?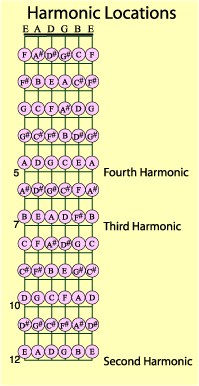 The fourth harmonic is located at the fifth fret. It is two octaves above the fundamental note (E). This means it will be an E note too. You can play the harmonic on your guitar, turn on your tuner and check this for yourself. If you do, you may find the note is not exactly in tune. Sometimes your finger can bend the string slightly and cause it to become a slightly higher note. Sometimes the string will be in tune when played open but slightly out of tune at a higher fret. But it should be very close.
The reason we are going into this is so we know what notes are going to sound when we play the harmonic. To use a harmonic or group of harmonics in a song, they must fit inside the group of notes (key) you want to use with them. This way they are another component of the key in which you are working. Not every key will be able to use these notes as effectively. The key of C sharp has seven sharps in it and none of these harmonics in this example are sharp.
The Fretboard
The most common place to sound harmonics is at the twelfth fret. Next are the harmonics located at the seventh fret. Playing harmonics at the fifth fret is more difficult than either the twelfth or seventh frets. As you move away from the fundamental note, the harmonics become more distant sounding and harder to play correctly.
It is possible to sound a harmonic at any fret, however, it is much harder at the first, second, third, fourth, six, eighth, ninth, tenth or eleventh frets. The first four harmonics are the easiest to play and hear.
I suggest you try to play them all over. It might be hard at first, but after you play with the exact location and pressure, it will become much easier.
When you do play them, play all the harmonics at that fret. Try to experiment with as many as possible. Each string at each fret will create a harmonic.
Also play the harmonics at the fifth and seventh frets for all six strings too. The harmonics at the fifth fret will be harder than the seventh to play. Remember they get harder and harder to hear and play as you move away from the fundamental note.
Uses
Harmonics are often used in the introduction of a song. As long as the notes are in the key of the song, you can probably get away with it. "Roundabout" and "And You And I" are two songs that Howe opens with harmonic passages. In "And You And I" he play some scale runs using harmonics to start the song.
Endings are another logical place to throw in some harmonics. Ending with harmonics can bring a fast piece to a quick end. However the hand response when using harmonics is more delicate than pressing down notes, and there is a mental adjustment you must make too. This increases the level of difficulty. To effectively use harmonics, you must get everything just right.
One of my favorite uses for harmonics is in lead statements. In "Dazed And Confused", Jimi Page starts out some lead work by playing two harmonics then he bends the notes higher and lets them ring out. He then follows it up with a blistering lead. In this way he effectively modulated speed and creates interest. This is much more effective than just playing a fast lead. It is a good "set up" technique. Ending leads with harmonics is very useful too. It can be approached the same way as ending a song using them.
There are lots of opportunities to throw them in a song or improv.
An Advanced Technique
Here is another way of sounding harmonics. The second harmonic is located at the twelfth fret, which is at the half way point on the string. That means the second harmonic is located at the twelfth fret. But you can play harmonics twelve frets higher than any note. Here is how you do it.
If you press a string down at the first fret you move the second harmonic up the fretboard about one fret. The second harmonic will now be located at the thirteenth fret.
There is just one problem. How can you hold the string down at the thirteenth fret if you are pressing down at the first fret? The answer involves another right hand technique.
I will extend my index finger of my pick hand (with no pick in it) and as I touch the string at the thirteenth fret with my index finger, I will use my thumb on my pick hand, and strike the string. The result is a soft but very clear harmonic. This will take some practice to do correctly but after a while it becomes a useful trick. In fact you can hold down an entire chord, like A minor (open string), and pluck the harmonics for all strings including the notes you are holding down. You can switch chords and continue to do this, however, it is generally not a fast technique. Press down on the string twelve frets higher than the note you are holding down on the fretboard.
| | |
| --- | --- |
| Pick Hand Technique | Fretboard Hand Position |
| | |
It is best if your pick hand thumb has a longer nail on it. This will make the sound a little louder and clearer. It is also easier to do. You can gain some mastery of the process of touching the string lightly but firmly and then plucking it with the thumb as your index finger holds it in place. Remember not to press down on the string all the way. You are just trying to firmly touch it.
Using this two finger technique, you can play harmonics all over the fretboard at any time.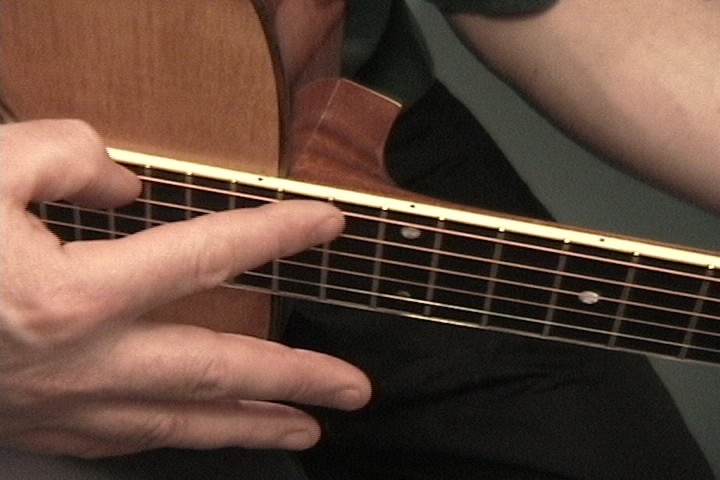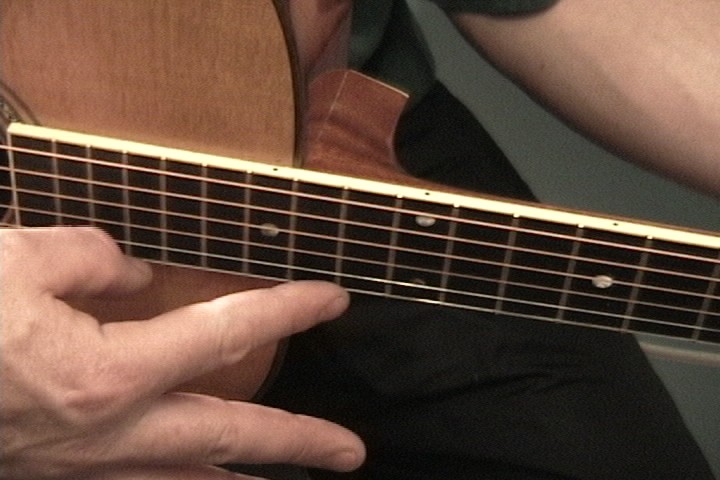 If you are an aspiring lead or rhythm guitarist, there are plenty of opportunities to use harmonics in unique and creative ways. They are a legitimate part of music and they always stand out. Consider using them when you are looking for just the right accent and nothing else seems to do it.
The more you play with them, the more you will use them.
Have fun.