Playing Vertical On A Guitar
by Tim Gillespie
Learn how to solo once and for all!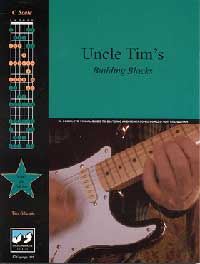 Soloing is like learning to talk. Knowing the words in not enough. You have to be able to form phrases in the key and then transform them into statements. There is no time to read music notation or learn where the notes are when forming a solo. You have to show up with this information already in place. Building Blocks will show you this using images because once you have the image in your head, you know exactly where to go and you can do it on the spot.
There is nothing like it and nothing can make up for it. For $20, you can put this all to rest right now. Pick up a copy today.
eBooks are delivered instantly!
These exercises are meant to jump-start your thinking about playing vertical. If this type of exercise causes you to make more mistakes than usual, you probably need this discussion.
Most of these chords you have seen before. We are going to concentrate on using chords in the key and mixing single note lines to carry the melody line.
There are thousands of variations available in these chords and I suggest you try to come up with more advanced progressions based on your abilities.
Anyone with any level of ability should be able to try this. If you have been playing scales, this may be a liberating experience for you.
Remember I am trying to give you a boost, develop some runs of your own. These chords and scales are easily adapted to songs in the key of C or A minor.
If you have a recording device, try recording a progression in C major and playing with these chords on top of what you have recorded.
Get creative. Spend some time with this. Try different ways of playing this material. Come back to it several times, don't just play it a few times and move on. The greatest benefit will come from multiple exposure.