Uncle Tim's First Year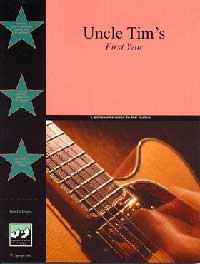 With over 560 illustrations and 112 pictures, once in a while a mistake shows up. For this we apologize! However on this page you will find complete errata sheets for Uncle Tim's First Year. So you can check to see an updated page when errata sheets are issued.
Here are the current errata sheets in Adobe PDF form. If you do not have the free reader, you can find a link to download the latest copy by clicking here.
Errata Sheets For Uncle Tim's First Year
Page 43 Page 43 errata
Page 77 Page 77 errata
Uncle Tim's First Year Price $14.95
Author: Tim Gillespie
First printing 1998, second printing 1999, third printing 2000,
fourth printing 2001, fifth printing 2002, sixth printing 2006
88 pages
112 photos
Hundreds of illustrations
Cover: 4 color, film laminate, perfect binding (this binding will not tear out)
ISBN 0-9647059-5-8
Library of Congress Card Catalog Number 97-092762
Price $14.95
Publisher: MOUNTAIN STUDIOS